New year, new look and new features
How I redesigned the UI to add sequential call forwarding.
Published on January 16th, 2021
Happy new year everyone and I hope 2021 has some goodies in store for all of us.
From the beginning of FreshBuzzer I had some features planned that I knew would be useful for my users. As I've been adding this functionality, the UI (look & feel of the site) has just gradually evolved and got a bit confusing in some places. I believe that clean and intuitive UI is key to a product that people enjoy using.
Since day 1 FreshBuzzer allows users to forward your buzzer call to multiple phones - that's the core of FreshBuzzer. However, it calls all your numbers at the same time. This works for most people but what if you don't want everyone's phone going off when somebody rings your doorbell?!
Let me introduce sequential call forwarding - does your partner get annoyed that their phone always rings as well? Now you can have your phone called first and only if you don't pick up, we'll call the next number on the list.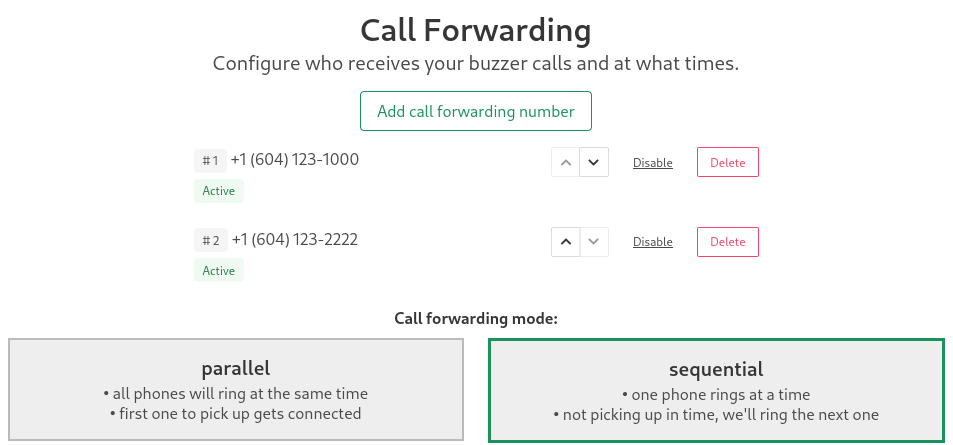 You can simply re-arrange the call forwarding order or enable/disable any of your forwarding numbers. At the bottom of the screen you can also easily switch back and forth between parallel and sequential call forwarding.
I'm sure this will allow people to customize FreshBuzzer to work best for them. Any question or ideas please contact me or better yet, sign up and take FreshBuzzer for a spin with out 28 day free trial!
Cheers,
Axel