FreshBuzzer Winter Edition 2023
Auto Buzz and more, read on for everything that's new in the past six months!
Published on November 13th, 2023
The blog has been pretty quiet to say the least, but that doesn't mean that nothing has happened. It just takes quite a lot of time to write one of these posts and I think that is usually better spent on improving the service or assisting customers!
But, some people - hello there - are actually reading these and find them useful. Some of you found FreshBuzzer thanks to search engines suggesting you one of the posts. So I figured I try something new and summarize everything that has gone into FreshBuzzer in the last half year or so - and because this is happening at the beginning of winter here, lets call it Winter Edition 2023. As you might have picked up on, the plan is to make this a recurring event with the next edition in the spring.
I'd like to start with the newest feature - that just dropped a few days ago - Auto Buzz!
This has been the most requested functionality and the only one I consistently refused to add. So what is it? It configures your FreshBuzzer account to simply buzz in anyone who rings your buzzer 😲 Sounds scary?! It is!! This feature drastically reduces the security of the whole building, which is the only reason why I didn't want to implement it. That's why FreshBuzzer got Party Mode instead which is basically the same but automatically deactivates after a short period of time, e.g. a few hours.
So why add it now where a more secure alternative already exists? Because FreshBuzzer aims to be a powerful tool to do what you need it to do. Some people pick up their buzzer and just let anyone with without checking who it is, or even worse, prop open the door with a rock or whatever they can find. People find a way when they want to. Additionally I expect Auto Buzz to be used when the building management on purpose disabled dial tones, which are needed for Secure Access Codes that are a much better option. But sometimes we just don't have a choice and need to make a compromise - so use this feature responsibly and make sure you have other ways to secure the door to your apartment, e.g. a smart lock.
Next up is a feature that undoubtedly makes FreshBuzzer more secure: Secure Access Code Notification Emails. While you could always check the access log in your account, there is something to be said about instant notifications when someone is using one of your Secure Access Codes - know that a package has been delivered, the dog walker arrived or your friend is on their way up for dinner.
Enable email notifications for new and existing Secure Access Codes

See instantly when email notifications are enabled! While email is certainly convenient for many, additional notification options are already being worked on and are hopefully ready for primetime soon!
Next up are two features that are crucial for folks who use FreshBuzzer Professional to manage their Short Term Rental (STR) properties. It is now possible to use multiple iCal calendars to syncronize bookings from different platforms - until now this required the involvement of a Property Management System (PMS) which is otherwise not needed for many STR operators.
Everybody knows that customer service is paramount, it is for FreshBuzzer and it is in the hospitality industry. If someone needs to check-in a little earlier or check-out a little later, that is something a host can often accomodate. Now it is even easier with FreshBuzzer which will automatically adjust the start and end times of the Secure Access Code for your guest, as well as the smart lock door code if applicable.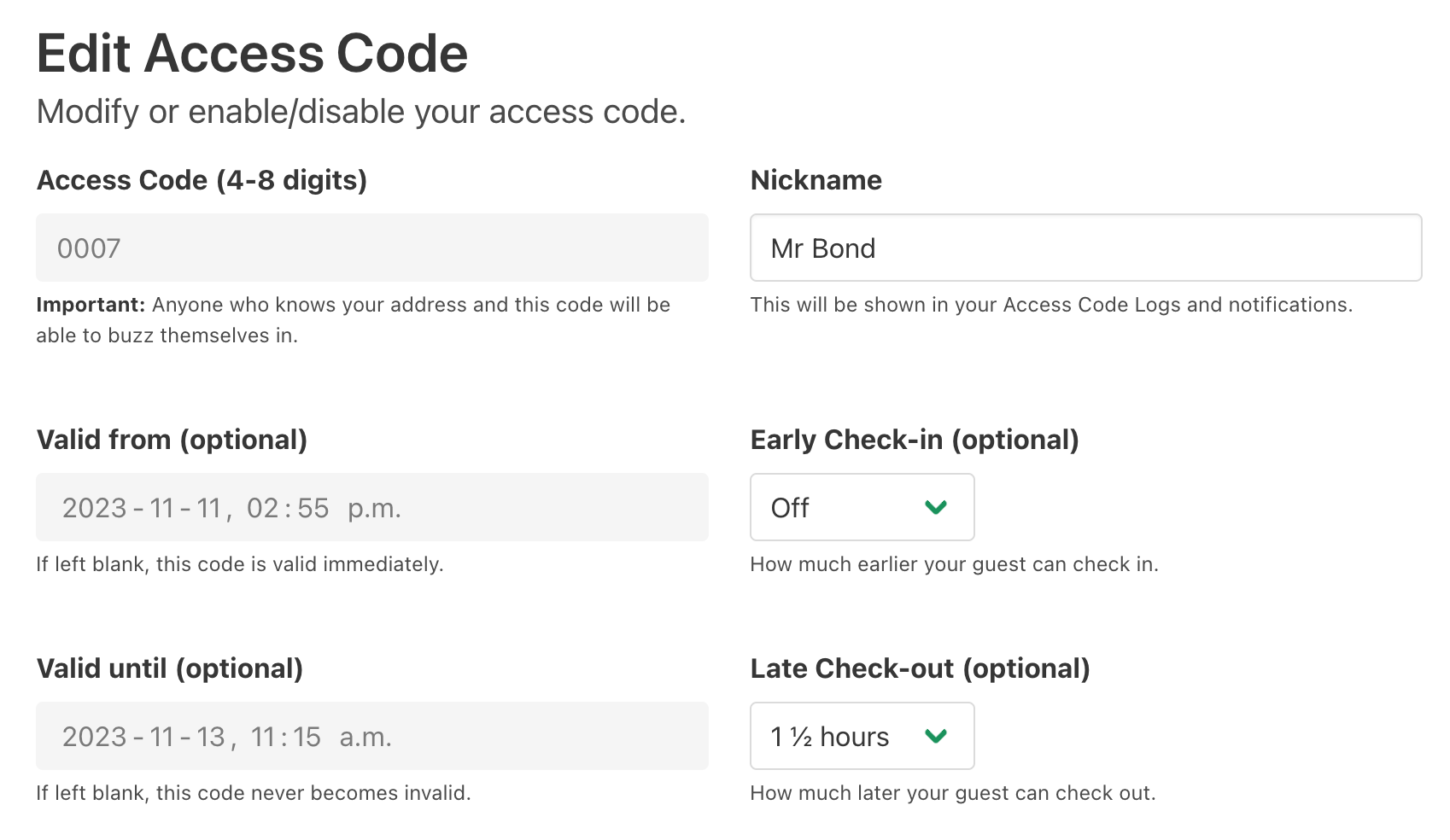 Set early check-in or late check-out for specific bookings
The last new feature I'd like to briefly mention - because it has made a huge step towards being available to all FreshBuzzer Professional customers - is smart lock integration!! Initially FreshBuzzer had a Schlage lock integration that has now been replaced by a much superior solution, using Seam which supports additional lock manufacturers such as August as well as different device styles like the Nuki Opener (which can be retrofitted to existing intercom units). While this functionality is still in Early Access, most of the rough edges have been ironed out and it will be fully available soon!
If you'd like to stay up to date with all new developments, have a look over on the announcements page as well as future blog posts! And as always don't hesitate to reach out with any feedback, ideas or comments!
Do you like FreshBuzzer and would like to support this service?! Please tell your friends and family so they can sign up as well - thank you. Done that already? Fill out our testimonial survey which takes maybe 2 minutes and is an immense help - thank you again!
Cheers,
Axel