Party Mode - come in, it's open!
You take care of your guests, we take care of letting them in!
Published on December 25th, 2022
Come in, it's open! - who hasn't been greeted this way or yelled it through the door to ask your guests to come in. Whether your guests are early and you're still working on the final touches, or they're late and your favorite sports team already started playing... sometimes we can't get the door right away so we leave it open.
But what about folks who live in an apartment building? Sure, I remember nights where someone propped the front door so it doesn't lock. Your neighbors might not be a big fan if this practice - and if you live in a high-rise with elevators that only take you to your host's floor, you have another hurdle to overcome.
With your regular buzzer you'll get constant calls on your phone. You might not be able to hear anything (depending on the noise level in your apartment) or even worse miss a few calls or are too slow to pick up and you're guests are stuck outside, freezing their toes off or missing the next big goal in the game you're watching.
FreshBuzzer always had Secure Access Codes - a great way to let certain people let themselves in. Have a baby sitter, partner or best friend coming over regularly? Set up a 4-8 digit code, tell them and next time they visit they just need to enter the code into the intercom and come in.
The problem is that for a dinner party or sports game you don't know who is coming in which group, or set up a new code for each event.
Party Mode solves that - it's like Secure Access Codes but easier. Simply go to your account, enable Party Mode and done! For the next few hours your guests buzz your unit and FreshBuzzer buzzes them in automagially. When all is set an done - i.e. your preset time is over - FreshBuzzer will return to your regular configuration of call forwarding and access codes. No need to remember turning it off (of course you can stop Party Mode early as well).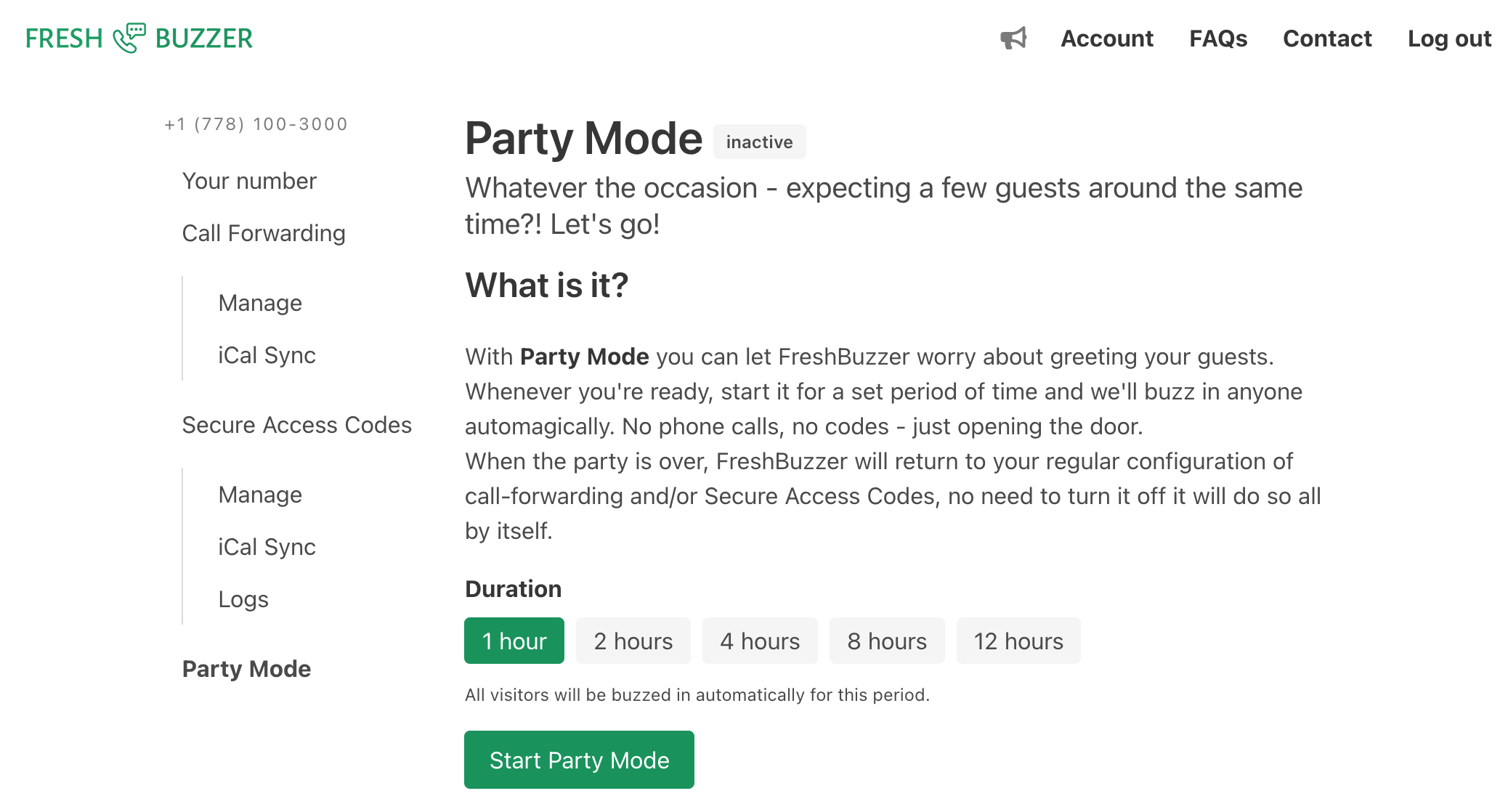 Start Party Mode with a single click!
This feature is now live, just in time for your Holiday gatherings or NYE party - give it a try and let us know what you think.
Cheers and Happy Holidays,
Axel